.. is a young people's drama group from Berlin which exists since 1980 under the leadership of Ilka-Cordula Felcht, a Berlin teacher of English, Drama and Politics. Originally it was founded as the school-drama-society of the Robert-Koch-Gymnasium in Berlin-Kreuzberg. Our age group and membership varies somewhere between 14 and 25, the young people are committed to the group in different productions. The Wild Bunch had to leave Kreuzberg two years ago to find a new home in the youths & arts centre "Atrium" in Berlin-Reinickendorf.
We started out with plays in English, our first play being The very proper gander by James Thurber. Putting on an English play for a German audience helped the young students not to rely on the spoken language to get to the audience but on all kinds of non-verbal communication on stage. Thus we have almost build up a tradition of acting which keeps away from the spoken text and looks for facial expression, movements, body language and all sorts of music to support stage action. We go this way consciously to counteract an education which feeds intellectual skills and leaves empty body and soul. The bodywork we do, intends to experiment with and experience individual potentials and is meant to sharpen our perception of the hidden connections between body and feelings. In this way -and this way only- we try to be "realistic" rather than show artificial "make-believes". This way we have a chance to "experience" rather than "show" something about the character's life on stage.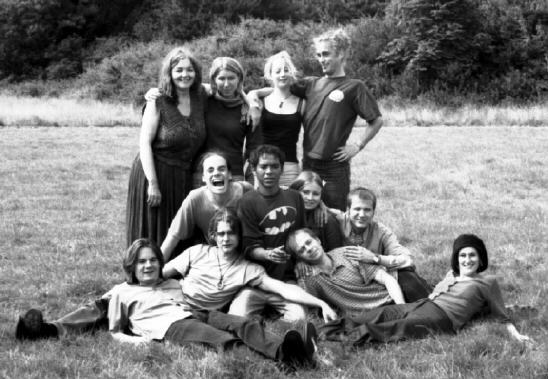 By now we mainly play in German. We choose short stories, fairy tales, myths, films, biographies, poems, songs and plays as our theatrical material to work with. The material needs not to be ours at first sight, immediately familiar to our present day situation, but we search in it what is ours to find our own themes and tunes. Our productions, at their best, reflect this process of making unknown material our own.